Reiki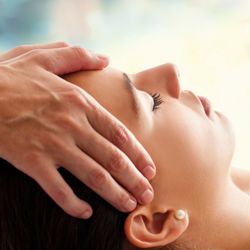 Reiki is a Japanese word meaning 'spirit' (Rei) and 'energy' (Ki). Ki is also known as Life Force, and the practice of Reiki channels the flow of this life force within us. It can help in the healing of many physical and emotional problems by strengthening the body's own healing capabilities. It is a gentle yet effective way of enabling the universal energy that flows through all living things to pass to the receiver, helping the mind and body to heal, aiding meditation, soothing emotional stress and promoting restful sleep.
General Information

Crystal Reiki
Crystal Reiki is a fusion of traditional Usui Reiki and Crystal Therapy. This combination of 'hands on reiki' and 'crystal placements' is non-invasive, safe and deeply relaxing and rejuvenating to receive. It promotes good health, wellbeing and better use of our potential. All the body's systems benefit from this radiant energy, the lymph, circulation and nervous systems. It is helpful in addressing specific complaints in a series of treatments, but also a 'solo' experience is good simply to enjoy, feel cleansed and refreshed.

The Reiki stimulates and enhances the power of the crystals, and the crystal's energy magnifies and blends with the natural Ki (universal life force) of the Reiki. The quality of Reiki is tender, gentle and deep and it flows like warm water with the beautiful vibration of the crystals.